Pink Taxi App design to be followed on Blockchain
Blockchain App Implementation on Pink Taxi platform, introducing with Wallet, driver feedback, passenger feedback, drivers subscrption via tokens, cashless transactions through tokens & token exchange program.
Pink miles to ride free miles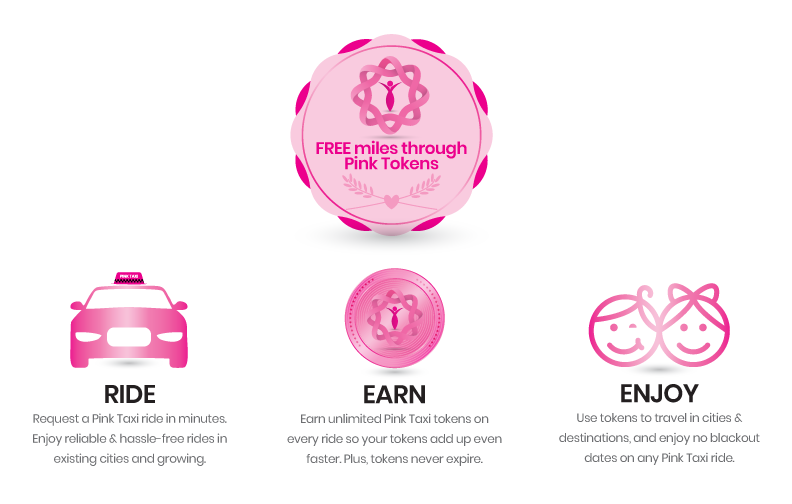 The company believes in encouraging token owners participating in the Token sale process by offering free rides throughout the year and can be used anytime. This will not only support the token owners to avail free rides it will also provide the driver registered with Pink Taxi to enhance their earning structure. Initially this scheme will be available in cities where Pink Taxi is operational. The overall bonus miles will be available till 2020 till the time full expansion plan is executed.
In 2006, the first ever Pink Taxi service was launched in the UK. Since then the ideology of Pink Taxi is adopted in 17 countries & multiple cities making the initial idea a success story. Based on the same focus in mind, Pink Taxi Group Ltd. was formed in the UK in 2018 with a vision to collaborate or partner with existing Pink Taxis companies under one umbrella. With implementation of innovative technology of blockchain, a single app will be available for the customers and drivers. This will not only ensure security but it will also add quality standards in service level. Effective Q2, 2018 private crowdfunding has been announced by the group with Phase A and B of Token sale to end by Q3, 2018. The tokens acquired during the process will be listed on multiple and main exchanges enabling holders profits. The Token sale process will ensure the group to expand and outreach new markets while partnering & collaboration with existing companies.
The 100 POWERLIST
Proud moment for Pink Taxi Group Ltd. UK
H. E. Khurram Shroff named in the 100 POWERLIST. 31 thousand nominations, 47 nationalities - banking & finance award recipient.
Vision to resolution
Pink Taxi has benefitted with a loyal customer based and has created a strong reputation of quality service through authorized drivers and vehicles. Setting new standards backed by innovative technology of blockchain. Standardization with innovation is a key to success in this era of technology. Customers prefer secure travel with authorized driver and safe transaction.
Current Situation/Problems
In some parts of the world, public transport service is intimidating towards women. It does not propose a safe and secure journey; resulting women to either stay at home or face problems finding suitable transportation. Females attending educational institutions, offices or even going to shopping malls experience disrespectful behavior from the drivers and conductors of public buses. Pink Taxi has identified this niche and is exclusively offering this service.
State-of-the-art platform
The entire idea of Pink Taxi revolves around the concept of empowering women. It also incorporates the idea of women economic empowerment in some parts of the world & to participate fully in economic life across all sectors is essential to build stronger economies, achieve internationally agreed goals for empowerment and sustainable development, and improve the quality of life for women, their families and communities.
Future Plan
Pink Taxi has the plan of aiding women on their paths to being economically empowered. A few countries might have started aiding women in their path of being empowered via a vehicle scheme or training females to become more experienced in other fields of life. We will continue to work with governments and institutions to aid women's empowerment.
The Pink Taxi, as time goes on, will be the sole form of payment so that the payment option will develop faster. We will try our best, using various means, for it to be easily accessible. Our tokens are incredible because they are universal and can be used anywhere in the world. We want the color Pink to be seen everywhere in the world.
Pink Taxi intends to spend time, effort and funds in researching and developing an IoT taxi counter device that will be hooked to our blockchain.